Use an Option 1 agent to buy your next home and you'll get CASH BACK!
We'll handle all the details, including negotiating the best possible contract, helping you find the perfect mortgage, helping your find the perfect mortgage and making sure it closes on time.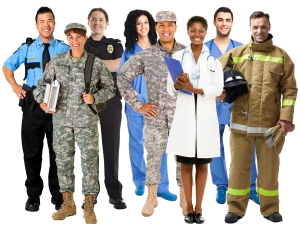 Community Heroes Save Even More
As a locally owned and operated real estate company, Option 1 Realty believes in supporting those who serve our community. That's why we started our Option 1 Heroes Program --as a way to say "thank you" to the many men and women who make the Richmond region and our nation as a whole a better, safer place to live.
Under the Heroes Program, Option 1 will DOUBLE our standard rebate for teachers, nurses, firefighters/EMS, police officers and military personnel --returning 20% of our commission to those who serve in the interest of others.
Contact Option 1 today to learn more and to see if you qualify for the program.